Domodossola 11-13 ottobre 2017
Si tratta del principale appuntamento a livello nazionale nel campo dell'ecopatologia della fauna, che ha lo scopo di promuovere il confronto tra ricercatori, operatori della sanità pubblica ed animale, tecnici faunistici, esperti di gestione,
appassionati e istituzioni sugli aspetti ecopatologici della gestione e conservazione della fauna, sulle implicazioni di sanità pubblica ed animale legate alla presenza e dinamica di popolazioni selvatiche, sui rapporti tra gli animali selvatici e le attività umane e, infine, sulle ricerche più avanzate in ecopatologia.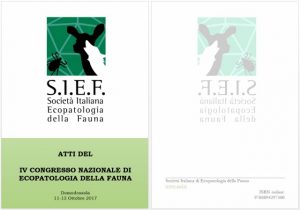 Gli Atti del congresso sono scaricabili cliccando sull'immagine
Presentazioni dei relatori al Congresso
SESSIONE 1 – L'APPROCCIO ECOPATOLOGICO IN SANITÀ PUBBLICA VETERINARIA
Guberti V. – Peste suina africana: 10 anni di lotta.
Mignone W. et al. – Health surveillance of tuberculosis in wild boar (Sus scrofa) of the western Liguria region
Besozzi M. et al. – Monitoring of pseudotuberculosis in an Italian population of Alpine chamois (Rupicapra r. rupicapra): preliminary results
Martelli W. et al. – Hepatitis E virus in wild ungulates: serological evidence in chamois and red deer in the Alps and genetic assessment of viral variants in Europe
Cappai N. et al. – Salmonella detection in raccoons (Procyon lotor) of Foreste Casentinesi National Park
Formenti N. et al. – Toxoplasma gondii: spread, infection dynamics and effects on host behaviour in naturally infected red deer (Cervus elaphus)
Leopardi S. et al. – Disease dynamics of EBLV1 in colonies of Myotis myotis in northern Italy
Trogu T. et al. – Prevalence of zoonotic pathogens and epidemiological role of hunted Alpine wild ruminants
Obber F. et al. – Developing harmonized protocols for sanitary surveillance in the game control centres in the eastern Italian Alps
Bregoli M. et al. – Building networks for wildlife surveillance: from forestry workers and hunters to veterinarians
SESSIONE 2 – ECOPATOLOGIA NELLA GESTIONE E CONSERVAZIONE
A: MAMMIFERI
Stancampiano L., Ciarlo R. – Helminth of Lepus europaeus: parasite ecology in a declining population
Mazzamuto M.V. et al. – Squirrel invasions and their parasites: macroparasites of Pallas's squirrel in Italy
Santicchia F. et al. – The price of being bold: personality affects endoparasite infection in introduced eastern grey squirrels
Ebani V.V. et al. – Arthropod-borne pathogens in roe deer (Capreolus capreolus) in Tuscany. A preliminary report
Savio E. et al. – Health status of hunted wild ungulates population living in Belluno district
Salvadori C. et al. – Trombiculosis in northern chamois (Rupicapra r. rupicapra) from western Italian Alps: prevalence and pathological findings
Cavallero S. et al. – Alpine chamois population with impaired health status living in isolated habitat: evidences from pathology and molecular genetics
B: UCCELLI
Franzoi A. et al. – Analisi di isotopi stabili nello studio dell'ecologia degli uccelli.
Bertelloni F. et al. – Molecular detection of shiga toxins (Stx1, Stx2), eaea and hlya genes of Escherichia coli in wild birds
Cerutti F. et al. – The microbiota of hematophagous ectoparasites collected from migratory birds in Italy
Giammarino M. et al. – Heavy metals presence in hooded crow (Corvus cornix) as indicator of enviromental contamination
Iemmi T. et al. – Spread of Toxoplasma gondii in the Eurasian magpie and Eurasian kestrel from the Emilian territory
Viganò R. et al. – Alpine galliformes, domestic birds and introductions for hunting: sanitary and management risk factors
C: ACQUATICI
Gustinelli A. – Fish-borne parasitic zoonoses in Italy. 
Pastorino P. et al. – Alien fish species in Italy: an overview about status and health risks to aquatic biodiversity
Toffan A. – Viral Encephalopathy and Retinopathy: the major viral threat for Mediterranean fish
Manfrin A. – Crayfish plague caused by Aphanomyces astaci
Dörr A.J.M et al. – Physiological response of red swamp crayfish to water salinity
Centelleghe C. et al. – The possible use of unmanned aerial system (drone) to collect information on wild cetaceans health status
Corazzola G. et al.– Anatomo-pathological findings on encephalic tissue of stranded cetaceans affected by Toxoplasma gondii
Mignone W. et al. – Marine mammal stranding in Italy: management and monitoring of the causes of death by the national reference center (C.Re.Di.Ma.)
 SESSIONE 3 – METODI E MODELLI
Lavazza A. – Lagovirus e lagomorfi, un rapporto in continua evoluzione: una sfida per la loro identificazione?
Formenti N. et al. – Applicability of blood sampling through intracavernous venipuncture: the example of Toxoplasma gondii in naturally infected red deer (Cervus elaphus)
Giammarino M. et al. – Morphological features of Anas platyrhynchos on postnatal growth based on FDA of c-r data: preliminary data
Cassini R. et al. – Species distribution models as part of a cost-effective surveillance approach for tick-borne diseases: case study in a natural park
Crovato S. et al. – A prioritization model to address infectious diseases surveillance in wild ungulates
Romeo C., Ferrari N. – When zero is a result: how to demonstrate the absence of an infection
 SESSIONE 4 – VARIE
Demartini E. – Carni di grandi ungulati selvatici: qualità, valore e posizionamento di mercato. 
Viganò R. et al. –Characterisation of wild game meats: from animal welfare to nutritional, organoleptic and hygienic quality
Riccardi F. et al. – Evaluation of pH levels in wild game meat in relation to correct management and good hygienic practices
Cazzola P. L. et al. – Screening methods for control of radionuclides entry into the food chain
Ballocchi E. et al. – Presence of Cs–137 in wild ungulates of Ossola Valley (VB)
Mignone W. et al. – Cadmium exposure in wild boars in Italy: case report
Bandino E. et al. – Investigation on Trichinella britovi spreading in wildlife of Sardinia
 Workshop – DATABASE ECOPATOLOGICI
Paula Cáceres Soto – Wildlife health management and the implementation of databases: the WAHIS Interface.
Roberto Lardelli – Un database per lo studio e la conservazione delle specie si apre all'ecopatologia: come sfruttare questa opportunità?
Marco Farioli – Gestione e pubblicazione di dati sanitari di animali selvatici: l'esempio del piano di monitoraggio e controllo sanitario della fauna selvatica della Regione Lombardia
Nicola Ferrè – Implementazione della Direttiva INSPIRE: armonizzazione delle informazioni geografiche secondo una prospettiva Europea.
Andrea Maroni Ponti  – Utilizzo e condivisione dei dati sanitari e di popolazione della fauna selvatica: il punto di vista del Ministero della Salute